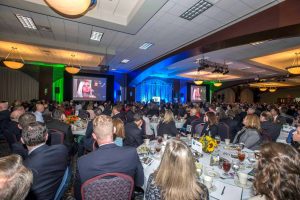 Your event doesn't just "happen"…"occur"…or "unfold."
Our experienced event management and production team produces with precision.  We scale our technical and organizational capabilities to fit your needs, perfectly.  You might require straightforward audiovisual support at your meeting site.  You might want facilitation and multimedia expertise.  Or you might desire comprehensive coordination, choreography, and content capture for the biggest, boldest, most memorable impact.
Whatever your need, we plan first, produce second.  To help you execute the best possible conference, convention, annual meeting, awards ceremony, fundraising dinner—or other consequential gathering—we ask questions.  Lots of them.  We listen.  Relentlessly.  Then we design.  Intentionally.  Our plan flows from your purpose.  We get to know exactly what you hope to accomplish, and how you hope to accomplish it.  Then we prepare—and persevere.
Whatever your occasion, we take away the worry and add the wonder.  We bring the passion and eliminate the problems.  We're there for you, so you can be there. Really be there.  Thank you for considering us to manage and produce your next—success.